Date/Time
Date(s) - 09/08/2022
6:30 pm - 8:00 pm
Location
Rochester Contemporary Art Center
Categories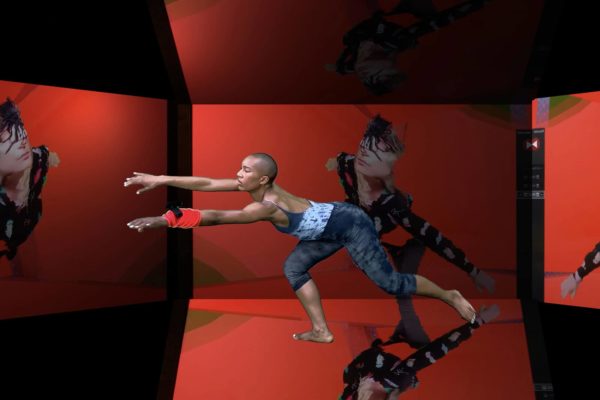 AUGUST 16 – SEPTEMBER 13, 2022
A four session introduction to immersive technologies that answers these basic questions: What are they? Where did they come from? How are they being used in art and culture?
NEW WORLDS – WHAT IS IMMERSIVE MEDIA?
August 16, 6:30 – 8pm
In-Person at RoCo *Register HERE
Led by series organizer Rebekkah Palov and
Featuring a Virtual Reality demo organized by The Institute for Electronic Art
Refreshments will be served
This event will focus on the basics of immersive media such as vocabulary and definitions and include examples of artist and arts organization projects. IEA Media Arts Project Director & Associate Professor of Video Art Eric Souther and assisted by Yunda Sun our IEA Research Associate will demo 3D Scanning and Motion Capture in Unreal 5 Game Engine for developing virtual reality experiences.
Following the first session, each category of immersive media is examined through artists telling the story of how they started with each technology. We aim to get past the jargon and talk about how artists were inspired to enter into and begin to make work in these new worlds. In conversation artists and attendees share perspectives and speculations on the futures of art in immersive media for advancing culture and creativity.
LEARNING WORLDS – A.I.
September 6, 6:30 – 8pm
Zoom *Register HERE
Panel Artists: Stephanie Dinkins & Trevor Paglen
We often meet-up with Artificial Intelligence in our web searches, speaking to digital assistants,  video playlists and shopping lists, all pretty rational and helpful. Then how in the arts can this machine learning be tricked and coaxed to the artistic ends of the imagination and rich human experiences?
WORLDS THAT SURROUND YOU – V.R.
September 8, 6:30 – 8pm
Zoom *Register HERE
Panel Artists: Eva Davidova & Sarah Rothberg
Many of us spend time with our phones or computer screen-windows. What then happens in Virtual Reality when that window surrounds you? Our artists will discuss the creative potential of the imagination of your body in both the private and network spaces of VR headsets.
AUGMENTED AND IN-BETWEEN WORLDS – A.R. / M.R.
September 13, 6:30 – 8pm
Zoom *Register HERE
Panel Artists: Will Pappenheimer & Carla Gannis
Augmented reality and mixed reality fractures the boundaries between what is in front of you and media spaces. Media visualizations that move with you are technologically re-mixed by artists via Mobile phones and can be fused into live performance, artworks and installations.
More info here.