Date/Time
Date(s) - 10/01/2021
12:00 pm - 5:00 pm
Location
Rochester Contemporary Art Center
Categories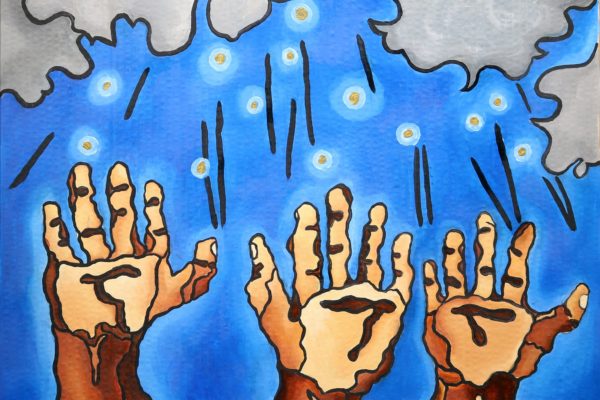 OCTOBER 1, 2021 – NOVEMBER 13, 2021
Opening Reception: October 1, 6-9pm
Artist Talk: TBA
RoCo is pleased to host the first solo exhibition of new and recent paintings and drawings by Rae Wiggins in our Lab Space. The works in the exhibition range from figural paintings on corrugated cardboard (a favorite material for the artist) to smaller portraits and gestural multi-media works on board.
New Growth is a series on the journey to new found purpose and space. It dives into how we need fresh soil to start and claim a new beginning. Those new chances can come when we least expect them to. Watching them sprout overnight and breaking the surface.
We never opt to grow by choice. Taking a leaf of our old selves and nurturing them in the sun in hopes of growing something new from it. Each and every one of us has the capacity to produce, nurture, and propagate new growth.
The boi's are included in this series since they've been with me from the very beginning and have grown just as much as I have. Through them I show multifaceted versions of myself and express how they and I have been sprouting, budding and blooming. The boi's also allow for me to insert more of myself in my works.
With the series I want to have a discussion with the viewer about their own experiences with growth and how it has spread its roots through each of us. Seeing how they are still growing or just beginning to crack the seams of the seed. Are you cutting off old roots or stems that are no longer serving you? One thing I've always said is "Like a plant I grow through concrete, just searching for the sun". This series shows resilience and brings all the many layers within it to the surface.  –R.W.
More info here.